Patient and calm, but resolute if necessary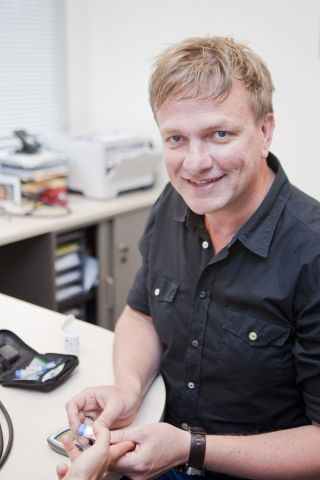 Marius Hartel (GP since 1998) describes himself as a hard worker who is passionate about his profession.

He decided to become a GP based on his broad interest in medicine, with a special interest in paediatrics, internal medicine, acute medicine and palliative care.

After having completed his medical training (which he partly followed in the UK), he worked as a locum GP in The Netherlands and in Ireland. He then worked as a GP in a health centre in Rotterdam for five years. During this period, he also worked as a lecturer at the department of General Practice at the VU in Amsterdam. Since 2008 Marius has been working in his current surgery in Delft.
"I work full-time as a GP, so my patients can see me almost every working day. I consider that to be an advantage. I get to know my patients well after a while. Together with my team we can offer extended personal care."

Marius and his team try to give responsibility to their patients as much as possible.
"If the situation permits, the patient must be able to stay in control as long as possible, and we stand by him. My goal is not to just write out a prescription, but to help patients to make the right decision.
Compassionate and skillful
I get along well with most people. Usually, patients feel quickly at ease with me. That's important for a GP. Furthermore, my years working as a GP have not only enriched me with a lot of expertise, but also with ample people skills.
Experience abroad
In the past I have lived, worked and travelled abroad for a number of years. I know from experience that the health care system in other countries often varies from ours. As a result, I can help expats or people with a foreign background better in finding their way here.
Innovation
We try to move with the times as much as possible with our team, not only in our profession, but also concerning the interaction with our patients. That is why we have introduced eConsult a while ago."
Medical Centre
The GP surgery is situated in Medisch Centrum Delft.
"This medical centre accommodates several disciplines, such as a pharmacy, a dentist and a physiotherapist. Ideal for our patients. The communication lines are short, we share knowledge and can easily consult a colleague."
Latest news
Patients rate us like this:
Huisarts Hartel, M.E.
is gewaardeerd op ZorgkaartNederland.
Bekijk alle waarderingen
of
plaats een waardering