"Feels special to be part of the care for our patients"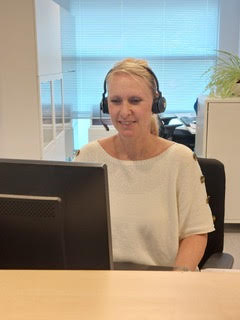 My activities
It is impossible to predict how our workday will unfold - each day is different! Together with my colleagues we communicate with our patients and give them information and advice. We also make appointments, send repeat prescriptions to the pharmacy and execute various administrative tasks. In addition, we perform small medical-technical procedures such as checking urine samples and haemoglobin levels, and syringing ears.
How did you come to work here?
I am doing a two-year course as a lateral entrant to become a doctor's assistant: each Tuesday and Wednesday I work in the surgery, and on Fridays I go to school. I had a longstanding wish to make a career switch from retail (which was my previous field of work) to a job as doctor's assistant, so I was very pleased when I was chosen for the course. Luckily, me and Marius, Sandra and Corrine hit it off straight away – I feel very much at home here.
What do you like about your work?
I like that it is varied and challenging, and I enjoy it a lot: both my duties, as well as our team and the nice atmosphere in our surgery (and the medical centre as a whole). It completely lives up to my expectations.
Latest news
Patients rate us like this:
Huisarts Hartel, M.E.
is gewaardeerd op ZorgkaartNederland.
Bekijk alle waarderingen
of
plaats een waardering